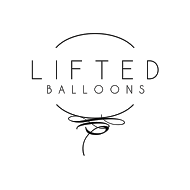 Trevana's Graduation TFH
Balloons for TFH School of Ministry Graduation Ceremony will be STUNNING! They will stand tall and statuesque on the massive stage giving an elegant presence and support to the beauty and significance of the ceremony. They will likely gently twist with the air current, giving sparkle and brilliance as the stage lighting bounces off them. They will be stately enough for a black tie affair. I propose that you position the groups of three in varying heights for added drama and elegance. Also, grouped as 2 black, 1 gold and then juxtaposed- 2 gold, 1 black.
(3) giant gold balloons flat $10ea = $30
(3) giant black balloons $10ea = $30
(2) tails with 3 tassel, (2) tails with 5 tassels and (2) tails with 7 tassels = $82.50 -
The pricing reflects 10' of tassels distributed between the 6 balloons it will be absolutely STUNNING!
The tails will be a palette of black, creamy white, and gold/butterscotch tissue all hand painted in gold metallic. Many clients mistake these tassels for fabric! Additionally, gold metallic fringe will be woven in and it will sparkle beautifully with the stage lights shining down on them. I have some beautiful shimmer ribbon in black and gold that I'll use as well. The weights will be black as to disappear against the stage floor.
Total: $142.50 - 15% (friends & family) = 121.12
Flat balloons and balloon tails/garlands will be delivered on hangers to Trevana at TFH East Bay campus Sunday, May 14th. Party City will fill balloons for approximately $9 ea. Party City can also attach the tails to the balloons via the slip knot at the top, or can easily be done by Trevana.
Remember to keep them from touching hot lights, prickly objects, ceiling fans, etc. When you drive to Party City bring a van or two cars with ample cargo space. I can fit 3-4 in a Chevy Tahoe with all the back seats folded down. A small Honda CRV fits 2.
Also: I would love to have access to any stellar photos they might appear in. I am in the process of revamping my website and would love to include photos of this application. I know that all of your photographers there do exquisite work!
sold out